Stacker Unit RA 897-200 - up to 300 or 600 documents
X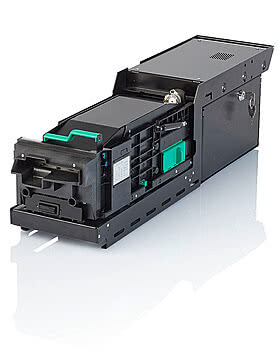 The Stacker Unit RA 897-200 can be combined with the REINER RS 891 open frame scan module for a secure and sequential document deposit after the scanning process.
This model fits at the rear of the RS 891 scanner. The (optionally lockable) cassette can be removed independently from the stacker drive unit and the stored documents can be easily removed.

Document movements are constantly monitored during transport and the paper path is fully accessible, enabling quick and simple intervention if necessary.
Features
Controlled by RS 891 scan module

Motorised transport

Optical transport control

Stop function on cassette full

Simple to empty cassette

Fully accessible paper path

Cassette capacity of 300 or 600 documents
Technical Data
Document Specifications:

Width: 70 mm to 112 mm

Length: 127 mm to 220 mm

Weight: 70 to 120 g/m²

Thickness: 0.07 mm to 0.15 mm

Optional: additional paper specifications on demand!

Capacity:

Exchangeable, lockable cassette for 300 or 600 documents

Performance:

Between 3 - 5 s/doc (depending on the application process)

Transport Control Monitoring:
Environmental Conditions:

In operation:

Temperature: +10 °C to +40 °C

Humidity: 30 % to 70 %

In store or during transportation (condensation free, foil-sealed, with desiccant/max 20 h):

Temperature: -40 °C to +70 °C

Humidity: 10 % to 90 %

Dimensions Cassette only (W x D x H):

300 docs cassette: 260 mm x 155 mm x 120 mm

600 docs cassette: 260 mm x 155 mm x 158 mm

Weight Cassette only:

Empty cassette for 300 documents: 3.0 kg

Empty cassette for 600 documents: 3.4 kg

Dimensions RS 891 & RA 897-200 (W x D x H):

With 300 and 600 docs cassette: 175 mm x 730 mm x 205 mm

Weight RS 891 & RA 897-200:

With empty cassette for 300 documents: approx. 13.3 kg

With empty cassette for 600 documents: approx. 13.7 kg

Colour:
Power and Control:

Provided by the scan module RS 891

Approvals:

Conforms to:

EMC-Guideline 2014/30/EU
Low-voltage guideline 2014/35/EU
Type-approved according to:
EN60950-1:2006+A11:2009+A1:2010 +A12:2011 (bis 19.06.2019)
cCSAUSA according to:
CSA 60950-1-07, 2nd Edition UL 60950-1, 2nd Edition

FCC Part 15
Download
Product datasheet