Scanner RS 893 - für Dokumentenstapel
X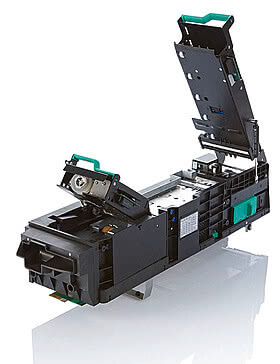 Das Einbauscanmodul RS 893 bündelt bis zu 50 Schecks oder Überweisungen und lässt sich leicht in Selbstbedienungsterminals und ATMs integrieren. Das Scanmodul RS 893 ermöglicht dabei eine zuverlässige und effiziente Dokumenten-zuführung. Die Geräte erkennen die Papierzuführung automatisch und starten mit der Verarbeitung.
Der REINER RS 893 hat Kameras für beide Seiten und liefert Farb-, Grau- und Schwarz-Weiß-Bilder. Die Vorderseitenkamera kann mit einer Farbkamera mit UV- und IR-Licht optional erweitert werden. Bei Schecks mit Magnetschriften liefert ein MICR-Lesekopf die erkannten Daten (CMC7, E13B) aus der Kodierzeile und stellt diese neben den erzeugten Bilddaten dem Applikationsprogramm zur Verfügung. Ein Indossierer auf der Rückseite ist standardmäßig vorhanden, ein Rollenstempel ist optional verfügbar.

Der Scheckscanner weist dieselbe Spezifikation wie der REINER RS 891 aus (siehe entsprechendes Spezifikationsblatt).

Der RS 893 kann mit dem RA 894 kombiniert werden, um bis zu 2.000 Schecks in chronologischer Reihenfolge abzulegen. Mit dem RR 895 (Rückgabefach) werden Schecks an den Kunden zurückgegeben, die nicht von der Applikation akzeptiert werden.
Merkmale
Akzeptiert gefaltete, verknitterte und verschlissene Schecks

Zuführungsmöglichkeit für Einzelschecks und Bündel bis zu 50 Schecks

Shutter

Dokumentsensor vor dem Shutter

MICR-Lesekopf

Vorder- und Rückseitenkameras (Vorderseitenkamera mit UV und IR-Licht als Option)

Mechanische und elektronische Belegausrichtung

Beleglaufkontrollen

Positionserkennung

Doppelblattsensor

Fremdkörpersensor

Alphanumerischer Tintenstrahl-Indossierer für Voderseite

USB 2.0 Schnittstelle

Komplett aufklappbare Belegbahn

Optional: Rollstempel für Vorderseite
Technische Daten
Dokument-Spezifikationen:

Breite: 70 mm bis 112 mm

Länge: 127 mm bis 220 mm

Gewicht: 70 bis 120 g/m²

Dicke: 0,07 mm bis 0,15 mm

Optional: weitere Papierspezifikationen auf Anfrage!

Transporteigenschaften:

Einführungsmöglichkeit von Einzelschecks und Bündel bis zu 50 Schecks

Scangeschwindigkeit abhängig von gewählter Bildauflösung:

Graubilder (greyscale 8Bit):
bis zu 500 mm/s
Farbbilder (colour 24Bit):
bis zu 170 mm/s

Transportgeschwindigkeit: 500 mm/s

Doppelblatterkennung

Dickmessenkontrolle

Dokumententransportkontrolle durch

Sensoren

Bildaufnahmesystem:

Zwei Farbkameras (CIS) für Vorder- und Rückseite (Option: Vorderseite Farb-CIS mit UV-/IR-Licht)

Scanfensterhöhe: 107,69 mm

Bildaufl ösung: 100, 200, 300 dpi

Elekt. Filter einstellbar für Blindfarbe: rot, grün und blau

Bildausgabe: 1-bit s/w bis zu 24-bit Farbe

Bildformate: .bmp, .jpg, TIFF G4

MICR-Lesekopf:

Für magnetische Kodierzeilen (CMC7 oder E13B)

Indossierer:

Tintenstrahldrucker nach der Rückseitenkamera

Horizontale Auflösung: 7, 10 oder 14 cpi

Schriftgröße: 3,2 mm

Schrift: ähnlich wie OCR-B

Bis zu 80 Zeichen können gedruckt werden

Druckposition: 53 mm von Dokumentunterkante

Schnittstelle:
Software:

API Interface für Windows 2000, Windows XP, Windows Vista,
Win7, Win8, Win10

Linux

WHQL zertifiziert

IQA-API verfügbar

XFS und J-XFS Service Provider verfügbar

Firmware-Update über Download möglich

Einsatzbedingungen:

Klimabereich im Betrieb:

Temperatur: +10 °C bis +40 °C

Luftfeuchtigkeit: 30 % bis 70 %

Klimabereich bei Lagerung/Transport (keine Kondensation, Folie verschweißt,mit Trockenmittel max. 20 h):

Temperatur: -40 °C bis +70 °C

Luftfeuchtigkeit: 10 % bis 90 %

Abmessungen (B x T x H):
Gewicht:
Farbe:
Stromversorgung:

24 V DC; < 3 A (Netzteil optional: 100 … 240 VAC)

Geräuschemission:
Prüfungen:

Konformitätsbewertung gemäß:

EMV Richtlinie 2014/30/EU
Niederspannungsrichtlinie 2014/35/EU
Bauartgeprüft nach:
EN60950-1:2006+A11:2009+A1:2010+A12:2011
+A2:2013
cCSAUSA gemäß:
CSA 60950-1-07, 2nd Edition UL 60950-1, 2nd Edition

FCC Part 15

Optionen:

Vorderseite Farb-CIS mit zusätzlichen Ultraviolett- und/oder Infrarotkanälen

Stapelablage RA 894-015 oder -030 für bis zu 1.000 oder 2.000 Dokumente

Reject Modul RR 895-000 oder -030

Rollstempel auf der Belegvorderseite:

Stempelgröße (B x T x H): 14 mm x 28 mm

Vertikale Stempelposition: 57 mm bis 80 mm (Abstand von der
unteren Belegkante bis zur Stempelmitte)

Programmierbare horizontale Stempelpositon

Externes Netzteil

Weitere Modelle sind auf Anfrage verfügbar!
Downloads
Produktdatenblatt
FAQ
What must happen if the RS 89x module is switched on?
If you switch on the scanner you must hear the typical sound of the shutter. Then have a look at the LEDs which are located at the right side of the scanner housing (front of panel view). The 3 green LEDs must be on (not flashing) the yellow LED must be off. If the USB-cable is connected to the scanner you should also hear a bing-bong sound on the PC. Also you should see the scanner in the device-manager (under multifunction-adapter) if the USB-driver is installed. (refer also to Installation guideline for REINER RS 89x Scanner)

For which application languages REINER provides examples?
Currently available are program examples in Visual C++ 6.0 and Visual Basic 6.0.
What is the reason if a RS 890 or RS 891 scanner module in combination with a RA 894 sometimes works ok but another time doesn't function correctly?
The RS 890 or RS 891 need a power supply with 24VDC/1A. If the RS 890/ 891 scanner is upgraded with a RA 894 a 24VDC/3A power supply is mandatory. Also for the RS 893, for the RS 893/RA 894 or the RS 893/RA 894/RR 895 combination this power supply is absolutely required.
Where may I buy ink cartridges for the endorser?
In RS 89x scanner modules the HP ink cartridge No. 51604 is used. Either your local HP dealer can provide you with the cartridge or you can order at REINER. Additionally it must be mentioned that REINER is the official OEM-supplier for this type of ink cartridge in black. Interesting could also be that REINER can provide this cartridge with red ink and even ink for food packaging.

• Order-N° black: 801307-000
• Order-N° red: 801307-050
• Order-N° black for food packaging: 791040-000
• Order-N° red for food packaging: 791040-001
What to do if one nozzle of the endorser is not working properly?
In this case one of the nozzles is destroyed and the print head must be replaced.

To avoid nozzle failures, switch the scanner ON or OFF ONLY if the power plug is plugged in the wall socket. Please keep in mind, that supply voltages above 24VDC destroy the print head immediately.
What could be the reason if you get error 8 although neither documents nor parts of a document are within the scanners document track?
The photo-sensor L-BK2 gets some extraneous light.
Please check whether the black cap above this sensor is installed.
What to do if the scanner module provides strange images?
Please check the following using the device manager:

• Is Win XP Professional SP2 or Windows 2000 SP4 installed?

Are the following drivers installed?

• usbhub.sys Vers.: 5.1.2600.2180
• usbport.sys Vers.: 5.1.2600.2180
• usbuhci.sys Vers.: 5.1.2600.2180
• usbehci.sys Vers.: 5.1.2600.2180
• usbohci.sys Vers.: 5.1.2600.2180
• usbui.dll Vers.: 5.1.2600.2180
• hcoin.dll Vers.: 5.1.2600.2180
• usbd.sys Vers.: 5.1.2600.0

Note
It is strongly recommended that the USB-drivers from Microsoft are installed in case you use an USB-controller card from any vendors.

Here also some information what was monitored in the past in case the Service Packs are not installed:

• The scanner provides images with bottom half of image in yellow colour and upper half is fine.
• The scanner starts occasionally with errors like "Track is not empty" even it was verified that there is no paper in scanner at all.
• Additionally this error seems to be less frequent on USB 2.0 enabled computers, and more frequently on USB 1.1.
• Occasionally the problem happens also in your application even if the DEMO application provided by REINER works properly.
What are the scan- and transport-speeds?
Greyscale

• 604mm/s (23.78/s) at 100 x 100dpi
• 302mm/s (11.89/s) at 200 x 200dpi
• 201mm/s (7.92/s) at 300 x 300dpi (300 dpi interpolated in vertical direction)

Filtered colour
Filtered colour always means that one colour has high resolution and the other colours have half the resolution.

• 302 mm/s (11.89/s) at 100 x 100 dpi e.g. 100 dpi red/ 50 dpi green/ 50 dpi blue
• 151 mm/s (5.94/s) at 200 x 200 dpi e.g. 200 dpi red/ 100 dpi green/ 100 dpi blue
• 100 mm/s (3.96/s) at 300 x 300 dpi e.g. 300 dpi red/ 150 dpi green/ 150 dpi blue

Full colour

• 201 mm/s (7.92/s) at 100 x 100 dpi
• 100 mm/s (3.94/s) at 200 x 200 dpi
• 67 mm/s (2.64/s) at 300 x 300 dpi (in vertical direction 300 dpi interpolated)
• Transport speed : 500 mm/s (19.69/s)

Note
If the endorser is used the transport-speed remains the same in all the cases above.
What to do if the scanner works ok, but after one day or more suddenly the scanner program crashes?
Please check the version of the used ASPI driver. Use only the version 4.57. All other drivers from Adaptec (e.g. 4.71) do have memory league problems. This applies not only for Windows XP but also for Windows Vista.

Note
Applicable only for SCSI environments with Adaptec cards!
What typical speed can be achieved if the RS 893 scan feeder is feeded with a batch of documents?
Assuming that we scan with 200 dpi grey-scale duplex and use the following procedure:

• Feed document
• Read MICR information
• Endorse 80 characters
• Transport document into the stacker (while the document is stacked the next one is feeded)
or transport document out of the scan feeder

We get a throughput of up to 17 documents / min.
How you can guarantee that only REINER USB scanners are permitted to work on USB ports?
To allow only REINER USB-scanners to operate but also to block other USB devices like memory sticks on the USB-ports the following steps must be achieved:

> Install the REINER USB scanner on the PC (see document install REINER USB-Scanners / First Steps)
> Start the regedit program by entering Run regedit and process the following key
HKEY_LOCAL_MACHINESystemCurrentControlSetEnumUSB
> Click the key above with the right mouse-key and enter the menu Permissions.
> Select under Permission entries the entry SYSTEM and click the button Advanced.
> Check out the red circle below and press the buttom Edit. (Then it could be that it asks in a new window Security for Copy, Remove or Cancel. Press the buttom Copy in this case and select once more Edit).
> Check the permissions according to the red ellipse below.

Note
Setting registry entries is only possible under administrator rights.
What to do, if the MICR results are poor?
If a operation mode is selected in which the transport speed is very low (e.g. 24-bit colour not filtered) it can be that some misreads occur. To avoid this problem use a higher transport speed (e.g, 8-bit grey with green filter) for reading the MICR line.

Note
If you have any other problems please send an email to support@reiner.de.