Questions? I look forward to your inquiry!
Hans-Peter Schmid - Regional Sales Manager
+49 151 590 246 41
Mon - Fri 8:00 - 12:00 / 13:00 - 16:00 CET
We offer customised solutions, specialise in small or medium-sized series at an optimal cost-benefits ratio. Our long experience and comprehensive know-how in zinc die-casting enables us to serve many different industries.
Our customer portfolio goes from engineering to medicine technology to electronic manufacturers – from delicate parts to geometrically highly complex parts.
The advantages of zinc die-casting, such as high strength and economic efficiency as well as our quality awareness convince our customers.
Of course, our quality management system is certified to ISO 9001. Our sense of quality starts with the first contact and goes all the way to delivery through often decades-long successful cooperation on both sides. Happy customers are the standard for our activities.
We see complex requirements as a challenge.
Our goal is finding a customised solution.
REINER high-precision technology – ideas shaped precisely


Table of contents
Capability Overview
Dimensions
400x600 mm span of the tool
Part weight
≤ 700 g
Materials
Only Z410 / GD-ZNAL4CU1
Machine type
5-125 to closing force (heat-chamber die-casting machines)
Lot sizes
From small volumes to more than 50,000 pieces
Benefits
Technology tried and tested procedure
Complex moulds for highest demands permit economic production
Benefits REINER
Own tool construction / moulds and tool construction,
fully automatic raw material supply and casting process with state-of-the-art CNC machining centres for complete/end processing,
surface treatment such as galvanic/chemical surface, painting (e.g. KTL), powder-coating and much more by reliable partners
Special knowhow
Sliding tools for pressure wheels, focus on small parts
What is the REINER casting method particularly good for?
Zinc can be used to cast very delicate, thin-walled parts of high technical quality. Zinc die-casting achieves a very high degree of accuracy. Mechanical processing is often not necessary.

Zinc die-casting also ensures high productivity even in small amounts. Its longevity makes the method very interesting from an economical point of view. The Z410 alloy used by REINER also shields well against electromagnetic fields.

REINER casts zinc die-casting parts with a unit weight of up to 700 grams in die-casting machines with a pressure of 5 to 125 tons. We cast using the Z410 alloy with a clamping surface of up to 400 x 600 millimetres.
The zamac used by REINER is characterised by a high mechanical strength and very long durability. The zinc alloy has a very good cost-benefits ratio.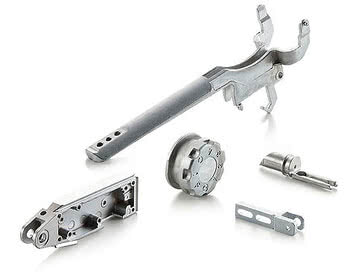 What is special about the Z410 zinc die-casting alloy?
The Z410 metal mix was developed as early as the 1930s. It is a special alloy for hot-chamber zinc die-casting with 3.8-4.2 % aluminium, 0.7-1.1 % copper and 0.035-0.06 % magnesium. This zinc die-casting alloy is suitable for very thin walls in stable forms and offers special surface properties. The material is suitable for all the common surface refinement procedures.


How expensive is the zinc die-casting method?
Parts can be produced in small or medium-sized batches at REINER. Our dedicated tool development, mould and tool construction keep the costs for REINER relatively low. Depending on the use case, this production method requires no mechanical post-processing, which also reduces costs.

Precise statements on this are not possible, of course, since this always depends on the customers' requirements and the number of parts produced. The zinc die-casting method used by REINER is generally deemed a cost-efficient option.
How environmentally compatible is zinc die-casting?
The material is a heavy metal. Zinc die-casting at REINER is therefore subject to special environmental provisions. Since the environment is important to REINER, we place special value on re-using any residues that arise.

The good strength-weight ratio of the die-casting parts and a relatively low casting temperature greatly reduce the strain on the environment. Material savings by thin-walled casting and longevity of the cast parts makes this method highly resource-efficient and sustainable in the long run.


What is zinc die-casting?
In zinc die-casting, REINER presses the liquid zamac into a pre-fabricated, customised mould at high pressure.
The cast parts made by REINER have a very high quality subject to continuous review.
Additionally, we offer subsequent surface treatments through our comprehensive partner network, including galvanically/chemically treated surfaces, coatings (e.g. KTL), powder-coatings, etc.


What parts can be made by zinc die-casting?
This method can be used, e.g., to cast the following small parts:
Parts for electronic components, such as plug connections

Small parts for engineering

Medical accessories, such as pump housings, spatulas, stethoscope parts, parts for microscopes

Complex pressure wheels

Zippers

Toy cars

Model train parts

And many other parts
What are the advantages and properties of zinc die-cast parts?
The resulting zinc parts are highly resilient against corrosion and other normal atmospheric conditions. Even moist, industrial and oily environments are not an issue. Resilience can be improved further with the matching surface treatment. REINER zinc-cast parts do not produce sparks and are not magnetic, but conduct heat and electricity.


REINER high-precision technology – precisely shaped ideas