Scanner RS 861/862 - Scanner für Stapelbetrieb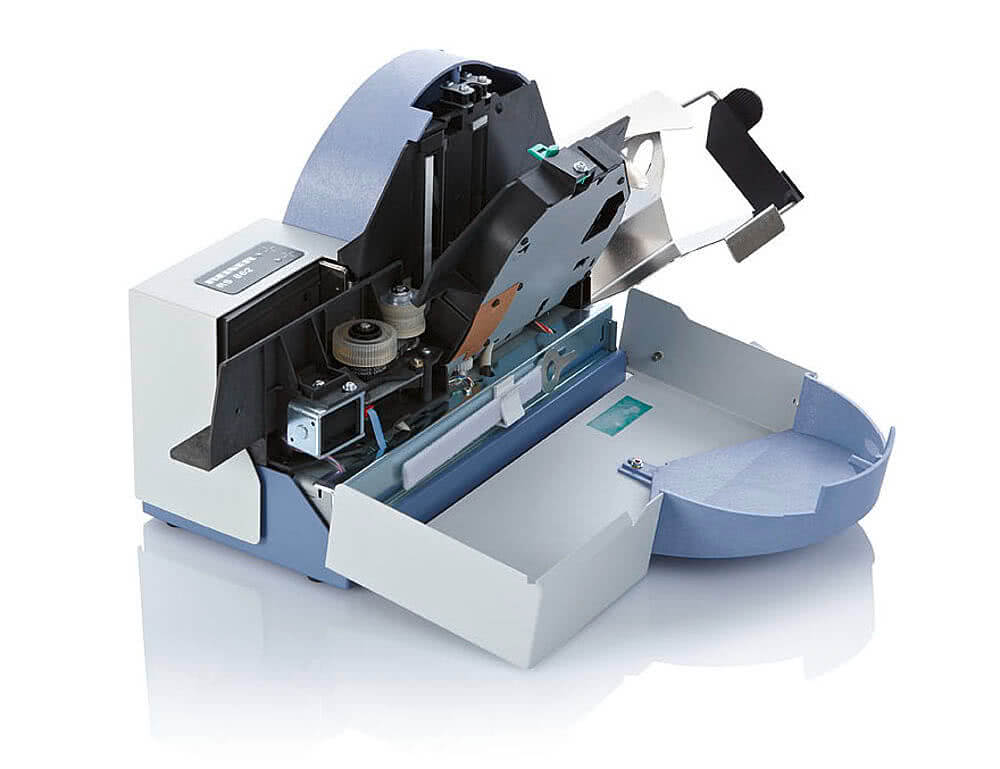 X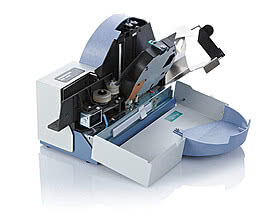 Für die schnelle Verarbeitung von Schecks, Rezepten, Zahlungsaufträgen, Coupons und anderen kleinformatigen Belegen.
Der RS 861 mit einer Abzugsfachkapazität von 50 Belegen und der RS 862 mit einer Kapazität von 150 Belegen sind die idealen Scanner für Schriftenlesesysteme.

Diese Geräte kombinieren Geschwindigkeit und Flexibilität in einer außergewöhnlich kompakten Bauweise und erlauben eine problemlose Verarbeitung von bis zu 8 000 Belegen pro Stunde.

Die RS 861/862 Scanner enthalten je eine Farbkamera für die Dokumentvorder-und Rückseite zur Erzeugung von Farb- oder Graustufen-Bildern und zusätzlich Schwarz-Weiß-Bildern. Optional können die Dokumente auf der Rückseite auch alphanumerisch indossiert d. h. bedruckt werden.

Der gerade Belegtransport gewährleistet eine hohe Betriebsstabilität.
Merkmale
Automatischer Stapelabzug

Doppelblattprüfung

Gerader und leicht zugänglicher Belegtransport

Vorder- und Rückseitenkamera

Optional MICR-Lesegerät

Manueller oder automatischer Scan-Start

Indossierung

Beleglaufkontrolle

USB 2.0 Schnittstelle

TWAIN- und API-Software-Schnittstelle
Technische Daten
Dokument-Spezifikationen:

Höhe: 60 mm bis 106 mm

Länge: 65 mm bis 210 mm

Gewicht: ca. 70 bis 120 g/m²

Dicke: 0,07 mm bis 0,12 mm

Optional: Papierspezifikationen auf Anfrage!

Dokument-Transport:

Abzugsfachgrößen:

50 Belege (RS 861)

150 Belege (RS 862)

Belegablage: max. 250 Belege

Geschwindigkeit für eine Beleglänge von 150 mm:

bei 200 dpi Graubildern von Vorderund Rückseite: 70 Belege/min

bei 200 dpi Farbbildern von Vorderund Rückseite: 35 Belege/min

bei 200 dpi s/w-Bildern von Vorderseite und 100 dpi Graubildern von Vorder- und Rückseite: 35 Belege/min

bei 100 dpi Graubildern von Vorderund Rückseite: 140 Belege/min

bei 100 dpi Farbbildern von Vorder und Rückseite: 70 Belege/min

Beleglaufkontrollen:

2 Kontaktsensoren

Doppelblattkontrolle über Dickenmessung

Bildaufnahmesystem:

CIS-Farbzeilensensoren für Dokumentvorder- und Rückseite

Scanfenster: 109,7 mm x 230 mm

Physik. Auflösung:

vertikal: 200 dpi

horizontal: 100 bis 300 dpi

Elektr. Filter einstellbar für Blindfarbe rot, grün oder blau

Bildausgabe: 1 Bit s/w bis zu 24 Bit Farbe

Bildformate: .bmp, .jpg, TIFF G4

Indossierer:

Auf der Dokumentenrückseite mit Inkjet-Druckkopf nach der Rückseitenkamera

Horizontale Auflösung: 7 oder 14 cpi

Zeichenhöhe: 3,2 mm

Schrift: OCR-B ähnlich

Druck möglich über die gesamte Beleglänge (max. 80 Zeichen)

Druckposition: 58 mm vom unteren Rand des Dokumentes (Grundlinie)

Schnittstelle:
Software:

TWAIN 1.8- und API-Schnittstelle für die Betriebssysteme Windows 2000, Windows XP, Windows Vista

IQA-API verfügbar

Firmware-Update über Download möglich

Einsatzbedingungen:

Klimabereich im Betrieb:

Temperatur: +10 °C bis +35 °C

Luftfeuchtigkeit: 30 % bis 70 %

Klimabereich bei Lager/Transport:

Temperatur: -40 °C to +70 °C

Luftfeuchtigkeit: 10 % bis 90 %

Geräteabmessungen (L x B x H):
Gewicht:
Farben:

Metallgehäuse außen: Lichtgrau (RAL 7035)

Gehäuseunterteil und Gehäusekuppel: Taubenblau (RAL 5014)

Stromversorgung:

Steckernetzteil 100-230 V AC, 50/60 Hz, 100 W

Geräuschemission:
Prüfungen:

Konformitätsbewertung gemäß:

EMV Richtlinie 2014/30/EU
Niederspannungsrichtlinie 2014/35/EU

Modelle mit MICR-Lesegerät sind verfügbar!
Downloads
Produktdatenblatt
FAQ
Where are the TWAIN Settings stored?
If the TWAIN driver is loaded first time it searches for the file .INI-file. There three different .INI-files:

• RS86u.INI for all RS 86x-scanners with USB-interface
• RS86x.INI for the RS 861and RS 862 with SCSI-interface and
• RS86m.INI for the RS 863 and RS 864 with SCSI-interface.

The .INI-file contains most of the TWAIN settings. If it doesn´t exist the TWAIN default settings are used. If an .INI-file doesn´t exist, it is generated in the WINDOWs- folder if the TWAIN driver is closed. In case it exists, the current TWAIN settings are stored there at closing time. If the TWAIN driver is opened again the TWAIN-settings are loaded from respective .INI-file.
Which settings are not stored in the .INI files?
The double-feed-control ON/OFF is not stored in the file .INI-files. Per default it is always switched ON. It can be switched OFF only by using the TWAIN interface (see CUSTOMDSDATA).

How can the font type of the endorser be set?
There are no TWAIN-API functions for setting the font type. Therefore the font-type can be set in the file RS86u.INI. The parameter "ENDORSERTYPEFACE=x" defines font-type. x may have the following values:

• 1 = 14 CPI
• 2 = 7 CPI bold type
• 3 = 7 CPI.
Why do you get always on DG_IMAGE.DAT_IMAGENATIVEXFER, MSG_GET TWRC_FAILURE the returncode =0?
This happens if the feeder is empty. On the event DG_IMAGE,DAT_PENDIGNCFERS,MSG_ENDXFER
is not always known, whether the feeder is really empty.
How can log TWAIN driver data?
Set the entry "LOGFILE=path/logfilename.log" in the RS86u.INI file. When the TWAIN driver is opened the above defined file is generated and data is logged in ASCII format.
What can be the reason for the following error-message?
"Failure MSG_ENABLEDS, Low Memory Condition encountered, free up some memory and try again"
This error-message is generated by the REINER TWAIN-driver in case it issues the UserInterfacedialog "CreateDialog()" to the TWAIN_32.DLL and gets back an NULL-handle. Therefore check the version of the TWAIN_32.DLL. Under Windows XP it should be 1.7.1.1.

Under Windows it is not possible to use the Help-function within the TWAIN window.
To be able to use the HELP function within the RS 900 or RS 86x TWAIN window, Winhlp32.exe is required. This program displays 32-bit Help files that have the ".hlp" file name extension. To view .hlp files on Windows Vista, you need to install this application. Please click here.

Note
If you have any other problems, please send an email to support@reiner.de.
How can Windows-EVENTLOG be switched off?
Per default all the scanner errors are logged In the file EVENTLOG file. To switch this function OFF in the RS86u.INI file under [SETTINGS] the entry "EVENT_LOG=0" must be generated.
What are the scan-/ transport-speeds and what is the typical throughout for A6 documents?
• 100 x 100 dpi greyscale both sides: 420 mm/s and 140 docs/min
• 100 x 100 dpi fullcolor both sides: 210 mm/s and 70 docs/min
• 200 x 200 dpi greyscale both sides: 210 mm/s and 70 docs/min
• 200 x 200 dpi color/filter both sides (e.g. 200 dpi red/ 100 dpi green/ 100 dpi blue): 105 mm/s and 35 docs/min
• 200 x 200 dpi fullcolor (200 dpi red /200 dpi green/ 200 dpi blue): 70 mm/s and 22 docs/min
• 200 x 200 dpi black/white Frontside and 100 x 100 dpi fullcolor both sides: 105 mm/s and 35 docs/min
• Clear document track: 250 mm/s
What to do if the scanner works ok, but after one day or more suddenly the scanner program crashes?
Please check the version of the used ASPI driver. Use only the version 4.57. All other drivers from Adaptec (e.g. 4.71) do have memory league problems. This applies not only for Windows XP but also for Windows Vista.

Note
Applicable only for SCSI environments with Adaptec cards!