Model RS 863/864 - Bulk desktop scanner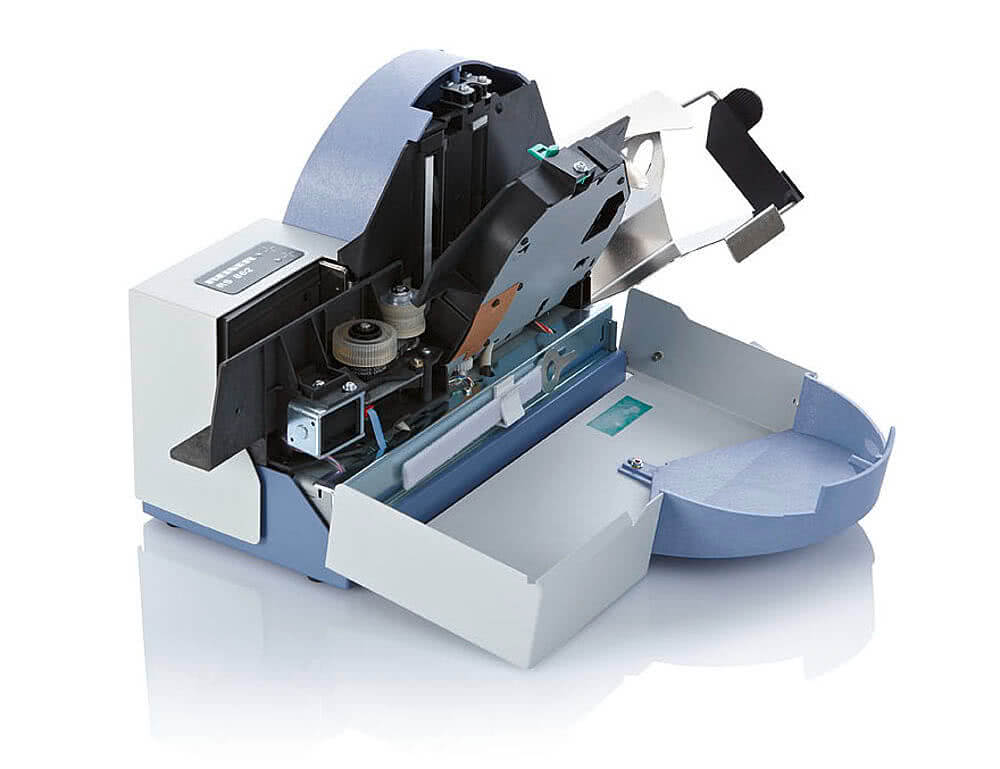 X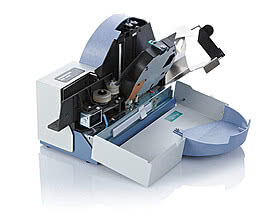 For fast batch processing of cheques, prescriptions, payments, coupons and any other small-format documents.
The RS 863 with its feeder for bundles of up to 50 documents, and the RS 864 for up to 150 documents, are the ideal scanners for character recognition systems.

These devices combine speed and flexibility in an unusually compact design, for problem-free processing of up to 8000 documents per hour.

The RS 863/864 scanners are equipped with front and rear colour cameras producing images in full colour, greyscale, and black-and-white. MICR codelines (CMC7 and E13B) are read with the MICR read-head and documents can be endorsed on the rear with the alphanumeric inkjet printer.

Their straight-through document path, robust build and high-quality precision engineering assure a high level of operational reliability.
Features
Auto feeder

Double feed detection

Fully accessible straight paper path transport

Front & back colour cameras

MICR reader

Manual or automatic scan start

Paper path monitoring

Inkjet endorser

USB 2.0 interface

TWAIN and API software interface
Technical Data
Document Specifications:

Height: 60 mm to 106 mm

Length: 65 mm to 210 mm

Weight: 70 mm to 120 g/m²

Thickness: 0.07 mm to 0.12 mm

Optional: additional paper specifications on demand!

Performance:

Continuous feeder capacity:

50 documents (RS 863)

150 documents (RS 864)

Output pocket for 250 documents

Speed for documents with length 150 mm:

70 docs/min with 200 dpi greyscale images of both sides

35 docs/min with 200 dpi colour images of both sides

35 docs/min with 200 dpi black/white image of front-side
and 100 dpi greyscale-images of both sides

140 docs/min with 100 dpi greyscale images of both sides

70 docs/min with 100 dpi colour images of both sides

Paper Path Monitoring:

2 contact sensors

Double feed control & thickness sensors

Image Capture System:

Colour CIS cameras for front and back

Scan window: 109.7 mm x 230 mm

Physical resolution:

vertical: 200 dpi

horizontal: 100 to 300 dpi

Dropout colour: red, green or blue

Image output: 1-bit b/w up to 24-bit colour

Image formats: .bmp, .jpg, TIFF G4

Magnetic Reader:

For magnetic code lines (CMC7 or E13B)

Endorser:

Inkjet printer after the rear-side camera

Horizontal resolution: 7 or 14 cpi

Font height: 3.2 mm

Font: similar to OCR-B

Printing from left document edge (max. 80 characters)

Print position: 58 mm from document lower edge

Interface:
Software:

TWAIN 1.8 and API interface for:
Windows 2000, Windows XP, Windows Vista, Windows 7

IQA-API available

Update by Firmware download

Environmental Conditions:

During operation:

Temperature: +10 °C to +35 °C

Humidity: 30 % to 70 %

In storage or during transportation:

Temperature: -40 °C to +70 °C

Humidity: 10 % to 90 %

Dimensions (L x W x H):
Weight:
Colors:

Metal case: grey (RAL 7035)

Case base/dome: blue (RAL 5014)

Power:

Wall socket 100 - 240 VAC, 50/60 Hz, 100 W

Noise:
Approvals:

Conforms to:

EMC-Guideline 2014/30/EU
Low-voltage guideline 2014/35/EU

Non-MICR models available!
Download
Product datasheet
FAQ
Where are the TWAIN Settings stored?
If the TWAIN driver is loaded first time it searches for the file .INI-file. There three different .INI-files:

• RS86u.INI for all RS 86x-scanners with USB-interface
• RS86x.INI for the RS 861and RS 862 with SCSI-interface and
• RS86m.INI for the RS 863 and RS 864 with SCSI-interface.

The .INI-file contains most of the TWAIN settings. If it doesn´t exist the TWAIN default settings are used. If an .INI-file doesn´t exist, it is generated in the WINDOWs- folder if the TWAIN driver is closed. In case it exists, the current TWAIN settings are stored there at closing time. If the TWAIN driver is opened again the TWAIN-settings are loaded from respective .INI-file.
Which settings are not stored in the .INI files?
The double-feed-control ON/OFF is not stored in the file .INI-files. Per default it is always switched ON. It can be switched OFF only by using the TWAIN interface (see CUSTOMDSDATA).

How can the font type of the endorser be set?
There are no TWAIN-API functions for setting the font type. Therefore the font-type can be set in the file RS86u.INI. The parameter "ENDORSERTYPEFACE=x" defines font-type. x may have the following values:

• 1 = 14 CPI
• 2 = 7 CPI bold type
• 3 = 7 CPI.
Why do you get always on DG_IMAGE.DAT_IMAGENATIVEXFER, MSG_GET TWRC_FAILURE the returncode =0?
This happens if the feeder is empty. On the event DG_IMAGE,DAT_PENDIGNCFERS,MSG_ENDXFER is not always known, whether the feeder is really empty.
How can log TWAIN driver data?
Set the entry "LOGFILE=path/logfilename.log" in the RS86u.INI file. When the TWAIN driver is opened the above defined file is generated and data is logged in ASCII format.
What can be the reason for the following error-message?
"Failure MSG_ENABLEDS, Low Memory Condition encountered, free up some memory and try again"
This error-message is generated by the REINER TWAIN-driver in case it issues the UserInterfacedialog "CreateDialog()" to the TWAIN_32.DLL and gets back an NULL-handle. Therefore check the version of the TWAIN_32.DLL. Under Windows XP it should be 1.7.1.1.

Under Windows it is not possible to use the Help-function within the TWAIN window.
To be able to use the HELP function within the RS 900 or RS 86x TWAIN window, Winhlp32.exe is required. This program displays 32-bit Help files that have the ".hlp" file name extension. To view .hlp files on Windows Vista, you need to install this application. Please click here.

Note
If you have any other problems, please send an email to support@reiner.de.
How can Windows-EVENTLOG be switched off?
Per default all the scanner errors are logged In the file EVENTLOG file. To switch this function OFF in the RS86u.INI file under [SETTINGS] the entry "EVENT_LOG=0" must be generated.
What are the scan-/ transport-speeds and what is the typical throughout for A6 documents?
• 100 x 100 dpi greyscale both sides: 420 mm/s and 140 docs/min
• 100 x 100 dpi fullcolor both sides: 210 mm/s and 70 docs/min
• 200 x 200 dpi greyscale both sides: 210 mm/s and 70 docs/min
• 200 x 200 dpi color/filter both sides (e.g. 200 dpi red/ 100 dpi green/ 100 dpi blue): 105 mm/s and 35 docs/min
• 200 x 200 dpi fullcolor (200 dpi red /200 dpi green/ 200 dpi blue): 70 mm/s and 22 docs/min
• 200 x 200 dpi black/white Frontside and 100 x 100 dpi fullcolor both sides: 105 mm/s and 35 docs/min
• Clear document track: 250 mm/s
What to do if the scanner works ok, but after one day or more suddenly the scanner program crashes?
Please check the version of the used ASPI driver. Use only the version 4.57. All other drivers from Adaptec (e.g. 4.71) do have memory league problems. This applies not only for Windows XP but also for Windows Vista.

Note
Applicable only for SCSI environments with Adaptec cards!